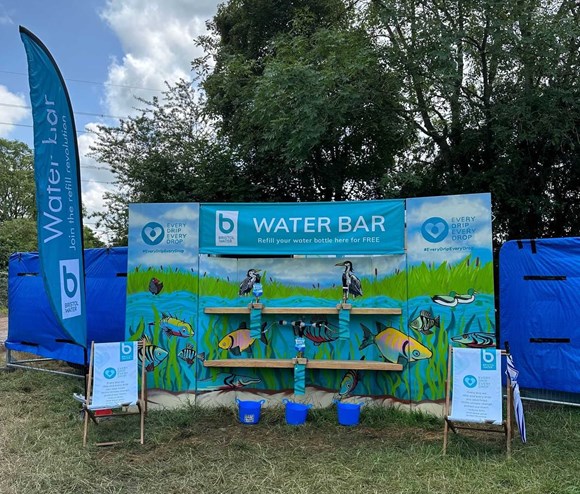 Bristol Water, part of Pennon Group, is supporting Glastonbury Festival's 'Love the Farm, leave no trace' ethos by providing free drinking water refills to festival goers at its Water Bar.
To support the ban on plastic bottles at the event, the Water Bar helps Glastonbury to be one of the most environmentally conscious festivals in the world. The Bristol Water teams provide free water refills at the Woodies stage.
By reducing rubbish and by educating on sustainable water use, Bristol Water's team at Glastonbury makes sure all festival goers stay well hydrated and keeps the "love our environment" message alive throughout the iconic event.
This also supports Pennon's promise to the planet - the company's ambitious plan to reduce carbon emissions and champion sustainability.
Last year, a new reservoir was built at Glastonbury to help supply up to three million litres of water a day for festival goers as demand for water in the area can increase by up to six times more than usual during the event.
Susan Davy, CEO of Pennon Group, parent company of Bristol Water, said: "With around 250,000 people expected to attend the world-famous Glastonbury Festival this year, our teams at Bristol Water are playing a vital role in helping to eliminate the use of single-use plastic bottles.
"As a company we are committed to standing shoulder-to-shoulder with our community and other organisations in the South West to protect the environment and deliver our Net Zero plan. Every single-use plastic bottle that is replaced by our teams refilling a reusable bottle is a step in the right direction."