The Water Bar
Our Water Bar gives you the chance to reduce your plastic waste through free water refills and the opportunity to chat to Bristol Water at events and festivals in our supply area.
Reducing plastic waste, one festival at a time!
Our Water Bar has been running since 2014, a time when the 'War on Plastic' was being spearheaded by pioneering organisations such as City to Sea, right here in Bristol!
We are proud that we were the first in the industry to launch our innovative Water Bar to help combat plastic waste and educate on water saving.
The West Country is home to some of the UK's most diverse and popular festivals, including Glastonbury festival, Valley Fest and the Festival of Nature.
It was the link between festivals and the need for a convenient source of water on the go which saw us develop the idea for the Water Bar, which since has seen us engage tens of thousands of customers and inspire other water companies to follow in our footsteps.
What is the purpose of the Water Bar?
Our vision is to ensure that everyone can reduce their plastic waste, learn about water saving, and hear about the work of Bristol Water at events and festivals in our supply area. Our mission is to do this through providing free, clean and reliable water refills at local events and festivals, as well as giving away water saving devices and educating customers on how to save water and save money on their bill.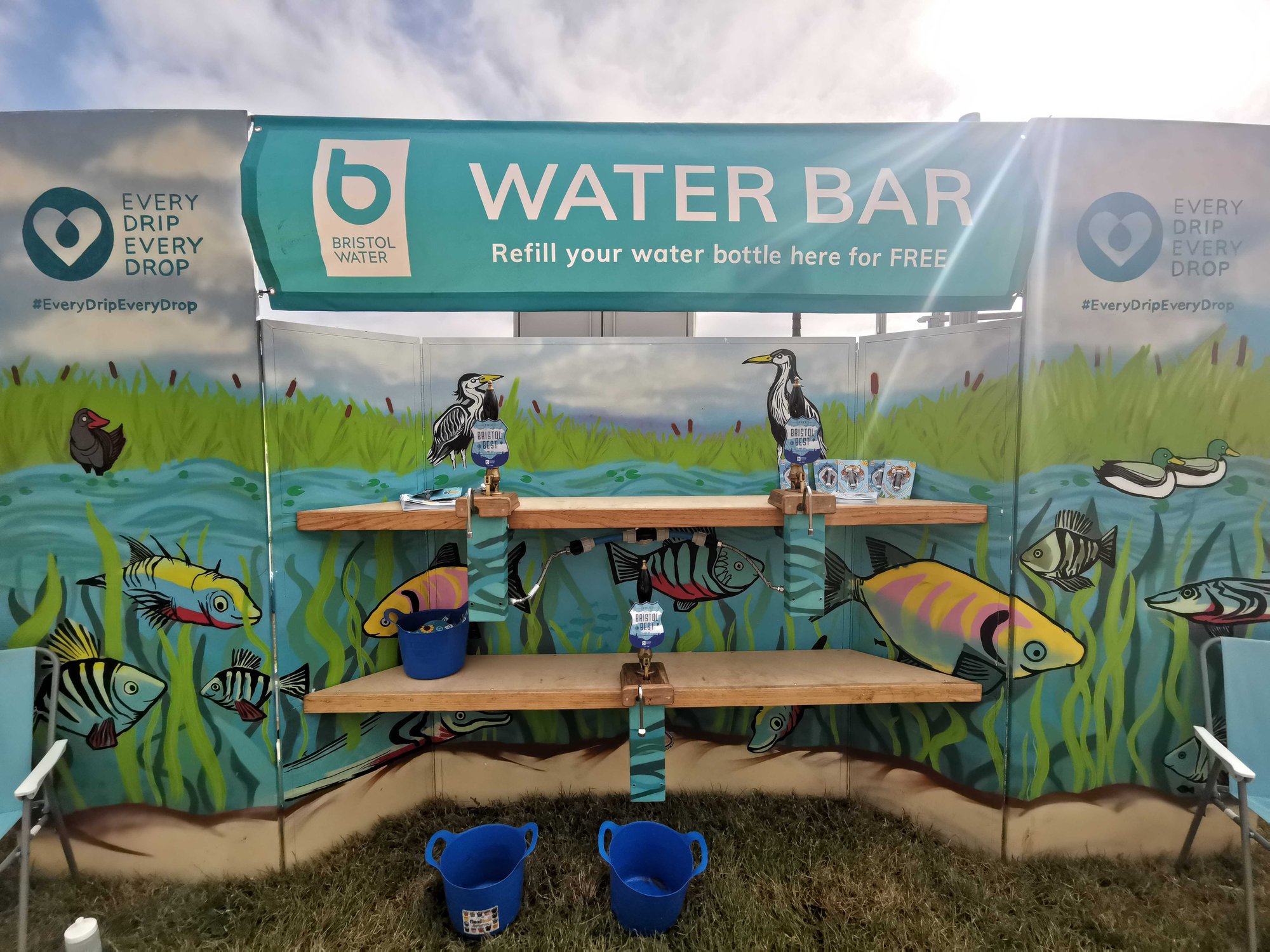 Request the Water Bar
Do you think the Water Bar could be a great addition to your event or festival? Fill out a request form and a member of our team will get back to you! Please note we are now only considering applications for 2024 events.
To request the water bar your event or festival must meet this criteria:
The event or festival is happening in our supply area
The event or festival is expecting over 1,000 attendees
The event or festival is happening between April - September
The event or festival is public and not a private event
Previous events we've supported
We're always looking to support local events and love hitting the road to meet all our lovely customers.
Here are the events we supported with water refills in 2023:
North Somerset Show
Old Reds RFC Rugby Mini's Festival
Bath & West Show
Weston Super Half Marathon
Festival of Nature
Glastonbury Festival
Keynsham Music Festival
St Paul's Carnival
Bristol Pride
Valley Fest
Portishead Family Fun Day
Clifton Rugby Club Mini's Festival