About us
Bristol Water plc is a water-only company in the Bristol and South West area. We are a registered data controller, registration number: Z5277208. This means it is our responsibility to maintain and protect all personal data that we collect and ensure that anyone we share personal data with will also adequately protect that data. The diagram below is an extract from our group company structure: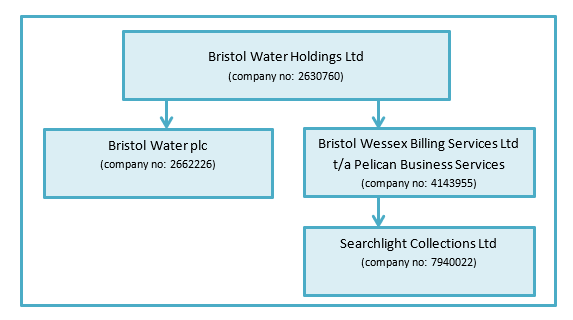 The diagram shows two group companies that we may share your data with. The first is Bristol Wessex Billing Services (also known as BWBSL or Pelican Business Services) and is also part-owned by Wessex Water Services Ltd. By sharing your data with Bristol Wessex Billing Services it means we can provide a joint bill for your water and sewerage. For more information please see the 'Who we share your data with' section.
Bristol Wessex Billing Services own a company called Searchlight Collections Ltd, which is a debt collection agency. Your data would only be shared with Searchlight Collections in the event of non-payment.
Data Protection Officer
We have appointed a Data Protection Officer (DPO) who is responsible for monitoring Bristol Water's compliance with data protection legislation. To contact the DPO email dataprotection@bristolwater.co.uk.
Information Commissioner's Office
If you have any concerns about the content of this Privacy Notice, or about how Bristol Water collects, uses, or transfers customer data you may contact the Information Commissioner's Office at ico.org.uk or call their helpline on 0303 123 1113.
We are required to share personal data with multiple parties for legal, regulatory, and operational purposes. Whenever we share personal data we will ensure it is the minimal amount necessary and use anonymised or aggregate data wherever possible.
We will not sell your data to be used for marketing purposes.
Our Data Protection Officer
We have appointed a Data Protection Officer (DPO) who is responsible for monitoring our compliance with data protection legislation. To contact the DPO please see our 'Contact Us' page.
It is a legal duty for us to promote water efficiency. We use a number of methods, including direct marketing on occasion. This may include promoting products and services we provide. We may engage a third party to provide this service on our behalf.
We will never sell your data to third party marketing companies.
Bristol Water supports the work of WaterAid, a charity that aims to ensure all people across the world have access to clean water and hygiene facilities. Occasionally we will include some information about WaterAid as a bill insert.
We recognise customer rights under data protection legislation:
Right to be Informed – customers are entitled to know how their data is processed. This notice is designed to provide an overview of all processing activity. If more specific detail is required please contact us at dataprotection@bristolwater.co.uk.

Right to Access – customers can access their data via a Subject Access Request, for more information please see our Customer Subject Access Request Policy here.

Right to Rectification – if customer data is found to be inaccurate we are under an obligation to correct it. This may be done by contacting our Customer Services team.

Right to Object – a customer has a right to object to processing under the legal basis of public interest or legitimate interest. Any objection will be appropriately considered by the Data Protection team.

Right to Restriction on Processing – We have processes in place to restrict processing where there is a legitimate objection.

Right to Erasure – customers have the right to be forgotten. Personal data shall be deleted where there is no longer a legitimate purpose to the data processing in accordance with our data retention policy.

Right to Data Portability – Where applicable, we have processes in place to allow data portability to another data controller.

Right to not be subject to automated decision making – customers have the right to have automated decision making to be reviewed by our personnel. We do not use automated decision making at the moment and will inform customers if our policy changes here.