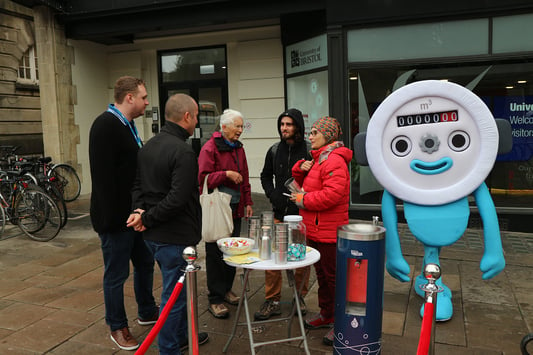 Today, we officially unveiled our latest free to use water fountain in Bristol with a very special guest appearance from… Peter the Meter!
To celebrate the launch of our 'Life's sweeter with a meter' campaign, Peter the Meter was invited to unveil the fountain to the public on Queens Road, Clifton. The soon-to-be local celebrity had a great time meeting the public, showing off his dance moves and striking a pose for selfies. Our Metering Team were on hand to answer questions from the public and go through our new online Water Calculator tool too.
Here to save water by the litre, Peter the Meter is all about protecting the planet and was reportedly "chuffed" to be a part of the day. This is the ninth water fountain we have installed in a bid to fight against plastic waste, as well as provide free tap water to the public.
'Life's sweeter with a meter' also aims to help our customers reduce their water bills by switching to a water meter. Peter the Meter will be a familiar face across our supply area in the coming months, promoting the benefits of switching to a meter and encouraging water efficiency.
To find out more about water meters and how much you could save on your bill by switching to one, click here.
Find out more about our water fountains, installed in partnership with Bristol City Council and Bristol Waste, click here.
Join us as we launch our final water fountain of the year on the Promenade, Bristol, on Wednesday 16th October at 12pm.