In January 2019 we published our social contract which sets out our framework to deliver our purpose. Our social contract will continue to evolve as we work with our customers, employees, stakeholders, and other organisations.
Ahead of the official launch of our social contract on Thursday 28 February, where we will bring together people from across the water industry and interested stakeholder to discuss the evolution of the social contract, we have been working with ICS Consulting to produce a thought-provoking document – Social Contract for Water: Evolution or Revolution? – To challenge ourselves and others to help test and shape our social contract.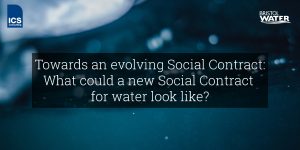 Bristol Water has been serving the customers of Bristol and the surrounding areas for over 170 years. We were founded as a private company with a strong social purpose and ambitious plans to reduce disease and poverty through access to safe drinking water. Since our founding, society has seen many changes. Some challenges are the same. Such as inequality of wealth and protecting public health, but some challenges such as climate change, access to quality local environment, education and societal wellbeing have become increasingly important over time. "I am proud to be leading the company through another era of evolution and change, a company that reflects that society will continue to change, even if its fundamental purpose stays the same. Today there are greater expectations that companies, especially those providing essential public services will go beyond basic expectations and be trusted by all to make a wider contribution to society, alongside delivering fair returns for investors. To do this, companies and their Boards need to be transparent and accountable for their role in society, with a clear purpose" Mel Karam, CEO, Bristol Water.
Join the conversation around the evolving social contract for the water industry on Twitter by using #hydrosocialcontract and #evolutionorrevolution.
For more details please contact us at strategyandregulation@bristolwater.co.uk.