How to make a complaint
We're sorry you feel like you have to make a complaint. Once we receive it, we get our top Customer Experience team on the case to ensure it doesn't happen again.
Please choose whether you want to make a complaint about operations (your water supply) or billing (moving house, your bill, or your meter). The best way to resolve your complaint is by calling us and talking to our experts in customer services.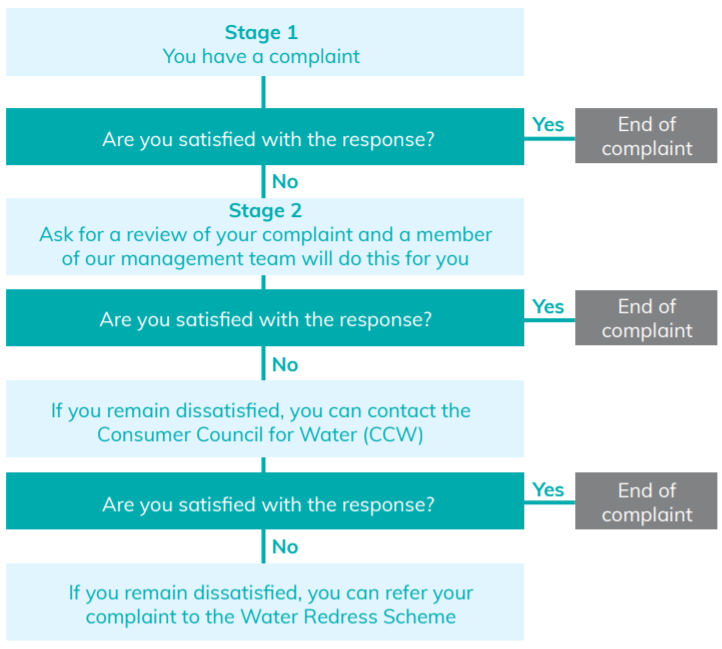 Stage 1
If you have a complaint about your water supply
and you contact us by telephone, we'll try to
resolve it immediately for you. If it isn't possible
for you to call us, you can use any of our other
channels available.

If we can't resolve your issue right away, we aim
to resolve it within five working days. However, if
it requires more investigation we'll make sure we
respond to you within ten working days from
the date you contact us. We will be clear with you
on the timescales of when we expect to resolve
your complaint.

If we fail to respond within ten working days,
you'll automatically receive a payment under our
customer charter the Bristol Water Promise. You
can find out about our Customer Promise commitments here.
Stage 2
If you're unhappy with our initial response and ask for it to be reviewed by a manager, we will respond to you within ten working days of receiving this contact from you.
Within eight weeks of us receiving your complaint, we will either:
■ be able to resolve your complaint, or
■ advise you that we're still not in a position to issue our final response. We will tell you why this is, and also when we expect to be able to do so.
In both of these cases we will tell you how you can contact CCW if you are unhappy with our response, or if you do not want to wait beyond the 8 week time limit.
Consumer Council for Water (CCW)
If you are still not happy with our response to your complaint, you can refer the matter to CCW. This is the statutory independent body that represents the interests of water consumers and helps resolve customers'
complaints. CCW will look at the facts relating to your complaint and may act on your behalf either through mediation or by investigating your complaint. Where appropriate, they may ask us to take action to resolve the issue.

Water Redress Scheme (WATRS)
If you are still not happy with the response to your complaint, you can refer the matter to WATRS. It is an independent and impartial adjudication service that is free for you to use and has the authority to make decisions that we have to comply with Disputes handled by the Water Services.

Regulation Authority (OFWAT)
In some cases, OFWAT has a statutory duty to investigate complaints and determine the outcome. This typically relates to complaints of a technical or legal nature. CCW normally refers any such complaints that it receives to OFWAT.

Arbitration
In some cases, it may be appropriate to use an arbitrator to resolve a complaint. We can provide more information about which disputes may be appropriate for arbitration. Alternatively, CCW can advise you about this.
What to do if you have a complaint
The quickest way for us to put things right is to call us and speak to one of our friendly team and let them know what has happened. We will listen to your issue, if we have done something wrong we'll apologise and try and resolve your issue immediately, however if we can't we'll aim to respond to you within five working days.
If we fail to respond within 10 working days, you may be entitled to compensation under our customer promise. A full list of these can be found here.
If you'd like us to review our response to your complaint
If you are not happy with the response, you can request for your complaint to be reviewed by a senior manager.
CCW -The voice for water consumers
If you remain unhappy following our review or your complaint has still not been resolved within eight weeks, you can ask CCW to help you. This independent body represents the interests of water and sewerage customers and has legal duties for dealing with customer complaints. It will look at the facts relating to your case and take the matter up with us on your behalf. This service is free of charge.
WATRS, the Water Redress Scheme
If your complaint remains unresolved after it has gone through all the stages of our complaints procedure and has been reviewed by CCW, you might want to consider asking WATRS for their help. They will provide an independent
binding decision.
Disputes handled by the Water Services Regulation Authority (Ofwat)
Some types of complaint need to be dealt with by Ofwat, rather than CCW. These include: water/sewerage companies' powers to lay pipes on private land and concerns water companies are breaking their license conditions.
Arbitration
In some cases, you will have the legal right to refer your dispute to arbitration, which means bringing in someone else to settle this. Matters that may be suitable are:
Positioning of our water meters
compensation for street works
disputes about the installation of water fitting (prevention of contamination)
For more details about arbitration, contact your local office of the Chartered

Institute of Arbitrators.
Billing
Address: Customer Services, BWBSL, 1 Clevedon Walk, Nailsea, BS48 1WA
Call: 0345 600 3600 (Mon-Fri, 8am-6pm)
Operations
Address: Customer Services, Bristol Water plc, Bridgwater Road, Bristol, BS13 7AT
Call: 0345 702 3797 (Mon-Fri, 8am-6pm. Emergency service at all other times)
If you're on social media, you can also reach us on Twitter and Facebook.
CCW
Address: CCW, 23 Stephenson Street, Birmingham, B2 4BH
Call: 0300 034 2222
Visit: www.ccwater.org.uk
If CCW thinks your complaint is justified, we will be asked to take the
appropriate action to put things right.
WATRS
Address: WATRS, International Dispute Resolution Centre, 70 Fleet Street, London EC4Y 1EU
Website: www.watrs.org
Call: 0207 520 3801
Email: info@watrs.org
If you have an unmetered bill and a monthly payment arrangement in place, your annual bill is split over 10 monthly installments: May to February. We do not take payments in March and April because during these months we generate bills for the forthcoming financial year.

If you have a metered bill and pay by a monthly budget arrangement we can take a payment each month of the year. We will automatically review your payments annually.

To set up a Direct Debit please click here
Charging for water services is a complex matter, involving both the law (primarily the 1991 Water Industry Act) and our economic regulator, the Water Services Regulation Authority, which is referred to as Ofwat.

Your supply is either unmetered or metered, and this normally determines the way we charge for your water supply.

Unmetered – we normally use the rateable value (RV) of your property and calculate the cost for the year in advance

Metered – we normally read the meter twice a year and you pay for the water you actually use


Click here for more detail



If you feel you are struggling to pay your bills, or you feel like you need extra help then please visit our Priority Services page where you can sign up or find out more.
There is no cost to close your account. Depending on the status of your account and any payment arrangement you may have, there could be a final balance to pay. If you're moving and need to tell us about your change of address, please complete this online form. Alternatively contact us on 0345 600 3600
Your bill is due and payable on issue. To pay this online please click here

If you have subscribed to online billing, you will receive an email advising you when you have a new bill. If you are facing problems paying or wish to discuss a payment arrangement to spread the cost, please contact us.
We supply water to 500,000 homes and businesses across Bristol City, North Somerset and areas of Bath, North East Somerset and South Gloucestershire. That's about 1.2m people who have access to our water every day. Wessex Water is responsible for providing sewerage services for the majority of our customers when they've finished using the water.

We also offer a range of alternative payment options for those struggling to pay, to find out more click here
Your property's rateable value is shown on the front page of your unmetered bill. If you have not yet moved into a property and would like to find out the rateable value, please contact us on 0345 600 3600
Still having a problem with your water...
Report a problem

If you're having a problem with the quality of your water, contact us so we can help to identify cause.
Find an approved plumber

We can help you find an approved plumber, who will help you diagnose the cause of your problem.