Sweeter with
a meter!
I'm Peter the Meter, pleased to meet ya. I'm here to save water by the litre, help you reduce your
water bill and protect the planet.



Ready to apply?
Let's do this - you can apply easily using our online form. It takes hardly any time at all and won't cost you a penny.
How much could I save?
Wanna know how much money you'd save with a water meter? Use our water calculator and we'll do the maths for you.
Already have a water meter?
Nice one! Find out how you can save more money, conserve water and protect our beautiful planet with your meter.
Why get a water meter?
As you pay only for what you use, many regard water meters as the fairest way to charge for your water services, but there are also loads of other great reasons why you should try a water meter.

Good for the planet
People on a water meter tend to use less water. Water meters also help spot leaks quicker.

Save money
Switching to a water meter could hugely reduce your water bill as you only pay for the water you use.

It's free
Getting a water meter is completely FREE. If you think you could save money, it's a no brainer right?

Switching back's free too
If you change your mind, we'll switch you back at any time within the first 2 years of installation. *

It's easy
Usually you don't need to be home for installation. And if you do, we'll pick a date that's convenient for you.
*The free switch-back offer does not apply to customers who are automatically switched to measured charges as a result of the Change of Occupier scheme.
Find out how much you'll save with our calculator!
Chances are, you could slash your bill - just by getting a free water meter installed.
On average, customers who switch to a meter save £100 per year on their water bill.
Find out if you could save yourself with out water saving calculator. It takes five minutes to fill out and you'll know straight away how much you could save!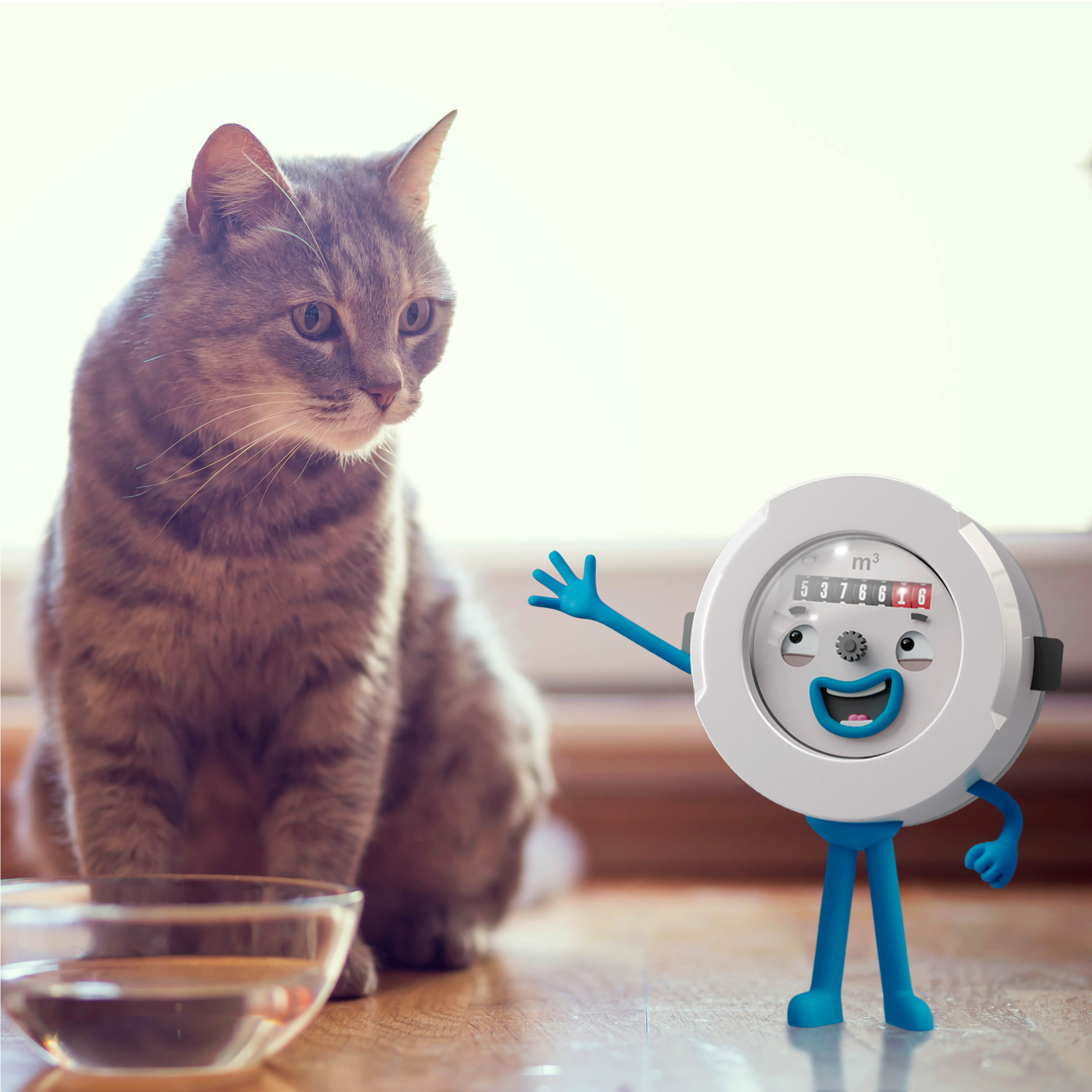 Bustin' myths
we've heard all sorts over the years...
From tales of people's neighbours with bills in excess of £1000 a year since switching, to the microwaves they emit to scramble our brains and even our ability as a company to spy on people with them. Sure, some people's water bills might be £1000 a year (if they have a swimming pool, they're refilling every week) but on the whole we can categorically say that these myths are just that. Myths.
Find out more, and decide for yourself whether a water meter might be right for your home in this recent blog post.
Frequently asked questions
No – we will take regular readings for you, but if you'd like to monitor your water consumption and submit your own readings, you can easily do so online here.
'Change of Occupier' is our initiative that helps customers get meters fitted into their homes without having to ring up and book. When you move house in our supply area, your meter will already be sorted! It also helps our customers think about water usage, the environment and leaks.

Change of occupancy metering is an important scheme that will help to protect water resources, as well as providing additional benefits to a number of business areas. The programme, agreed with Ofwat, will enable us to:
Improve leakage control

Improve supply demand balance

Improve security of supply

Protect water resources
The Water Industry Act 1991 (as amended by the Water Industry Act 1999), in particular section 144B, Sub-section 2 (b) of that Act enables us to meter a property on a change of occupier. The Industry Regulator Ofwat has approved our plans on selective metering of properties on change of occupier, as part of our business plan submission.
For more information and to see more detailed information on this programme, click here.
Absolutely nothing! Water meter installations are completely free of charge, and usually you don't even need to be home when they are fitted.
If you change your mind, we will switch you back to unmeasured charges for free at any time within the first 24 months of installation.
Save money
With a water meter, you only pay for the water you use at home. If you reduce the amount of water you use everyday, the benefits will be reflected on your bill. By using less water, you spend less money - it's pretty simple! In fact, on average our customers save £100 on their bill after switching to measured charges.

Environmental
By being more conscious about your water usage, you will be contributing to a much bigger picture doing your bit for the planet and water conservation. For example, we have 1.2 million customers - if every one of those customers were using more and more water, the additional need there would be to produce more manmade lakes. By creating these lakes would require concrete structures, pipe laying, and extra buildings to treat this water. Not to mention the change of landscapes which would result in trees being cut down and rivers needing to be diverted. Also, the amount of power needed to convey the water around our network is our second biggest cost - aside from the monetary value, the more energy used increases the amount of C02 produced.
Only pay for water you use
Did you know that by not being on a meter, you could be paying for water you don't use? That's literally flushing your money down the toilet! Water meters are often seen as the fairest way to pay for your water bill as you only pay for the water you use.
Detect leaks
By having a meter, you'll be able to keep a closer eye on what goes on in your home. By checking on it every now and again, you'll easily be able to spot an internal leak on your property. By spotting leaks quicker you'll help reduce water waste.
No – all payment arrangements remain the same unless you instruct us otherwise. If you have an existing Direct Debit we will adjust your amount after taking the first reading. If you pay by instalment book, the instalment value will change and you will be notified once the meter details are entered onto your account. A new book of instalment slips will be sent to you.
Love water, save water
We love water. It's why we're here, and what we're made of. But we also want to reduce the impact our water use has on the environment.

We offer a range of FREE water-saving devices to our customers to encourage water efficiency. from toothy timers to tap regulators, we've got you covered. Take a look now and see what you could use in your home and garden to make a real difference.