Fresh water supplies are being rerouted to help hydrate over 200,000 Glastonbury Festival revellers - all without the need for plastic bottles.
As activists mark World Refill Day today (16 June), the global campaign to prevent plastic pollution, Bristol Water is playing its part providing a dedicated supply to the festival after organisers Michael and Emily Eavis pledged to phase out single-use plastic.
Each event – that sees festival-goers flock to Worthy Farm and transform the rural landscape into the equivalent of a city – has required a unique logistical operation to manage water supplies.
Planning has been underway since March to cope with an up-to SIX time increase in demand for water in the local vicinity during the world-famous event.
Bristol Water staff have been working around the clock to ensure all services on and away from the festival site remain seamless for its duration.
This has included helping supply water to a new reservoir which has been established for the first time this year at Worthy Farm and rerouting supplies from other parts of the Bristol Water network to offer a dedicated service.
The scale of the challenge is evidenced by the need for Bristol Water to supply around three million litres a day during the peak of the festival. By comparison, the village of Pilton, Somerset, where it is staged, can traditionally take as little as half a million litres a day.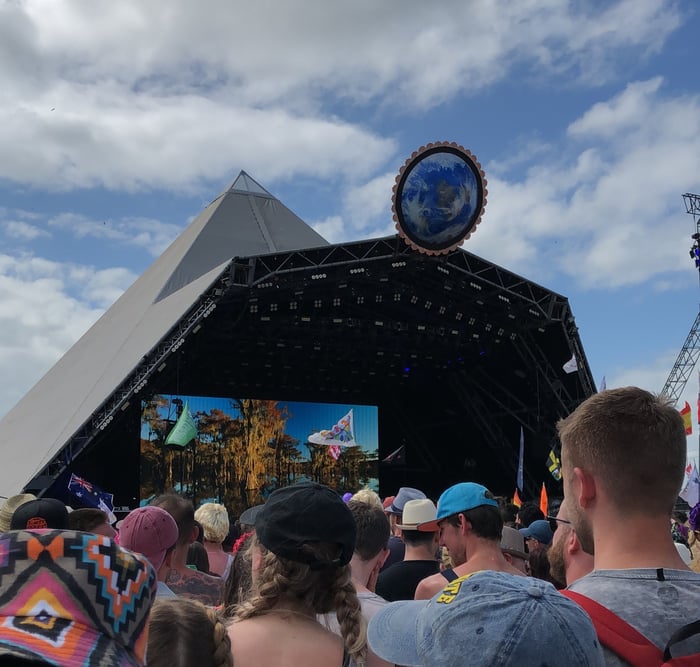 Mark Lewis, Network Distribution Manger at Bristol Water, said: "The biggest challenge we have is maintaining water supplies to both the local villages such as Pilton and North Wotton, which are busier than usual, and the festival, alongside regular demand.
"If the weather is very hot then we will likely see a massive spike in demand and as the festival has moved away from single-use plastic, all water to the site is expected to be supplied by us.
"Meetings with the festival this year began in March and we have been working very closely with them since. We have bypassed one of our reservoirs to keep the flow high and rerouted other supplies from elsewhere.
"The festival also built a new reservoir on site themselves this year which we supply from a different area and this will help with demand."
Bristol Water undertook significant work in 2010 to ensure it can supply the site with a peak flow of 25 litres per second. Prior to this it supplied just the farm and the surrounding villages.
The festival used a lot of bottled water before this but a shared vision to reduce this type of waste has led to a hugely successful symbiotic relationship.
Bristol Water has announced its free-to-use water bar will be near the John Peel Stage at the festival this year serving pints to punters. Volunteers will be encouraging festivalgoers to refill their reusable bottles at points like this one and showing support for the Refill Revolution, which is a City to Sea campaign with a mission to stop plastic pollution at source.
The festival, with headliners including Paul McCartney and Billie Eilish, officially runs from 22 - 26 June, but getting everything set up takes significant planning.
Flushing and sampling have already been carried out and the rerouting of supplies will be in place by 13 June. A week later a pump to supply continuous water will be set up at a neighbouring farm that will stay in place until 28 June.
The Bristol Water network will then return to normal operation on 4 July.
Mel Karam, Chief Executive Officer at Bristol Water added: "Providing fresh drinking water to 200,000 people who take up temporary residence on a farm within the Bristol Water catchment area provides a unique logistical challenge for us, but it is one our hard-working staff relish. I'm so grateful to them for the dedication they routinely demonstrate to ensure taps keep running across our area.
"We absolutely share the Glastonbury Festival vision to reduce plastic bottled water waste. It builds on our long-standing support for the City to Sea and Refill team and their campaign against plastic pollution. We're committed to going beyond our core duty of providing pure and reliable water. We are passionate about making a real difference in our local communities which is why we're supporting the refill revolution in any way we can.
"Our volunteers will be present at our water bar throughout the festival so come and say hello, get refreshed, and we hope everyone attending has a happy, healthy and hydrated time."
Bristol Water supplies fresh drinking water to around 1.2million people living in Bristol and the surrounding areas. It is part of Pennon Group, which is a UK-focused water infrastructure group, comprising South West Water (incorporating Bournemouth Water), Pennon Water Services and Bristol Water.
Bristol Water aims to work collaboratively with the communities it serves on initiatives, such as it's Water Bar and through Refill Bristol. This work has also included introducing water fountains free to use in our supply area.