Last Friday (12 July) Bristol Water and Bristol Green Capital Partnership co-hosted a workshop with city stakeholders to develop a vision for 'Citizens for the Future'. The objective was to develop a vision for citizens and employees for the future aligned to Bristol's One City Plan. We debated what people would need to be like in the future (both at home and at work) to achieve Bristol's ambitious goals and how we could collaborate to help to shape and enable this future.
So first of all, you may well be wondering why Bristol Water would be co-hosting an event like this. The answer lies in the company's take on its role within society. Bristol Water recognises that it holds a privileged position as a monopoly supplier of the most essential of all services to customers and has the ability and (some would say), a moral duty to have a positive impact on society where it is well placed to do so.
Let's take our work today to provide free public access to tap water for example. By the end of year we will have installed 10 water fountains in Bristol, saving an estimated 50 miles of plastic bottles per year. Our motivation is simply to use our skills, resources and connections to make our communities better places to live. We see this as an important part of our purpose – our reason for being. This is also how our founders saw the company's role 173 years ago, with clean water being essential for health and health being essential for wealth.
Here at Bristol Water, we really care about the future of Bristol and we want to play our part in bringing stakeholders together to tackle issues in partnership. We also recognise that to achieve our challenging long-term ambitions (such as reducing per capita consumption of water by 25% by 2050), then society needs to be in a good place and we need to play our part. Citizens need to feel connected to their community as a whole and make lifestyle decisions based on the impact on others. This is unlikely to happen unless there is good quality housing, equality and high standards of living.
Back to the workshop…where we were inspired by excellent speeches from colleagues from Bristol Green Capital Partnership, The University of the West of England, Bristol Water, Bristol Energy, Bristol Waste, Bristol City Council and Ablaze. These speeches focused on work that organisations are currently doing individually and in partnership to shape the future of our city through our citizens. The workshop also saw the launch of the Resource West partnership, which aims to deliver a joined up approach to resource efficiency across the city – a great example of how companies can work together to align messages and resources when engaging with current and future citizens.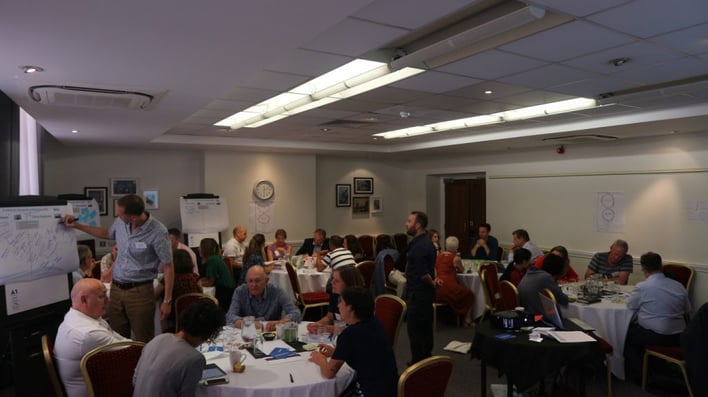 We set about the task of capturing a vision for citizens in the future. So what are they like? Well they are a sassy but caring bunch – well informed on the issues affecting society and engaged in individual and collective action to make a difference. They are, as one workshop participant put it
"Globally aware and locally engaged"
Which actually sums up Bristol Water really well too. Here's one of the outputs from the workshop which describes our future citizens: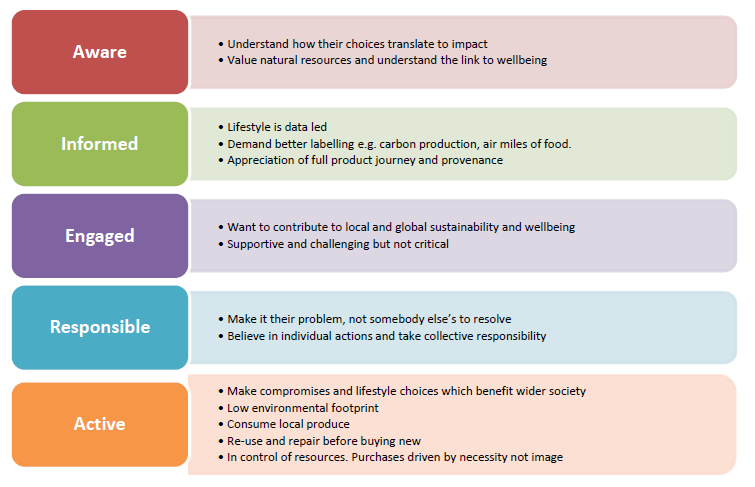 These future citizens are also resource efficient, carbon neutral, employed, active, healthy, producing and eating local produce, regular volunteers, as well as educated and educators.
Under this vision, at work there will be a stronger alignment between personal and corporate values, with a strong social conscience, a sense of environmental responsibility, a focus on diversity, human rights and fairness with recognition that business has an impact that goes well beyond economic. Trust will be a core business value which underpins all corporate decision making. Ways of working will be more flexible, which gives people more time to live sustainably – for example cycling to work, making their lunch, or growing their own vegetables, rejecting the high convenience options.
So what can we do individually and collectively to help to realise these visions for our future citizens? There were lots of ideas in the room. These included commitments to form new partnerships and sharing existing best practice. The overriding consensus was that the work that we need to do cannot just be focussed on incentivising behaviour change in our citizens, as this will only achieve short term success. Instead we need to win hearts and minds to change the culture of the city. Social conventions and norms have to change, so that not acting in the best interest of your community becomes socially unacceptable. Perhaps in the future, driving or buying single use plastic is the new smoking?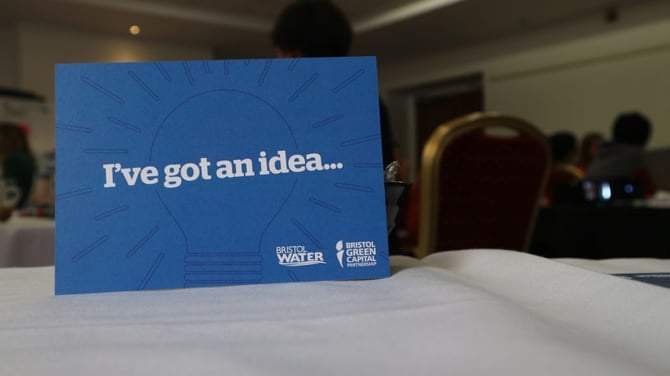 What we do know is that engagement and education, to win those hearts and minds, will have a major part to play in achieving our collective vision for our future citizens. A full write up from the event can be found here.
Michelle Davies is our Head of Strategy here at Bristol Water. She spends much of her time working on the company's social contract and is passionate about delivering our social purpose. Michelle has over 15 years of experience in the water industry, and joined Bristol Water 18 months ago. We have now completed her education by introducing her to terms such as 'gert lush' and 'me lover'.