Watertalk 2020 > Feature
Sea change

We speak to local author Michelle Cassar about her new children's book, which encourages us all to do our bit to protect the world's oceans from plastic pollution
Photographer, film maker and surfer Michelle Cassar was one of the founding members of City to Sea, a not-for-profit organisation dedicated to stopping plastic pollution. She has seen first-hand the devastating effect of plastic pollution on our oceans and wildlife. In 2019 she published her first children's chapter book, Seb and Polly Planet on their Ocean Quest, to help encourage people of all ages to "Plastic A Lot Less" or PALL. We caught up with Michelle to talk about the inspiration behind the book and get top tips for being PALL pioneers.
How do you find the process of writing?
The idea came naturally, the writing not so much so I've worked with a children's editor and copywriters. Since I started writing it, I've lived in seven houses – and worked on it in Singapore to Portugal, Bristol, Essex, Wales and Weston-super-Mare – so it's well-travelled!
The illustrations are beautiful. Did you collaborate closely with the illustrator?
Yes, very. As an illustrated chapter book, the illustrations and design play a key part for children moving on from picture books. Eve Bourrat is a professional illustrator based in Falmouth and I loved her quirky style straight away. We worked together on all stages over Skype, and during lockdown we created a weekly bedtime story on YouTube, which includes all the illustrations and activity sheets. They're available on my website.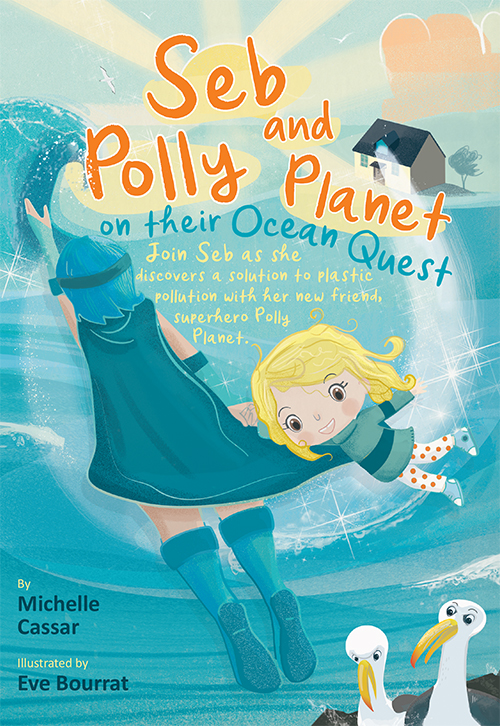 We know Seb's experiences are (sadly) based on real life. Are the characters based on real people?
Scarlett, my friend's (then) six-year-old daughter, was the inspiration behind the colourful character of Seb. I lived with Scarlett for six months in Singapore and noticed how she took matters into her own young hands, rather than waiting for grown-ups to do so.
You've spent more than a decade inspiring people to stop using single use plastics. Have you seen any positive progress during this time?
So much! Back in 2008, when I started, there were just a handful of people doing something about plastic pollution – now there is much more awareness and action. As one of the founding members of City to Sea, I was part of the Refill initiative in 2015. Bristol Water was one of the first water companies to get behind the campaign, which has gone on to prevent over a million plastic bottles entering the waste stream.
What's the easiest way for us to be PALL?
Start filling a reusable bottle with tap water at home rather than buying bottled water.
What do you most commonly hear from people resistant to your PALL ideas?
That their individual actions won't make a difference. In my first three years of being PALL, I refused around 10,000 single-use plastic items so they do add up.
We can turn the tide on plastic pollution by…
… knowing we CAN make a difference.
Watch Michelle read Seb & Polly Planet on their Ocean Quest on YouTube, buy a copy at a local bookstore (like Zero Green, Arnolfini, Waterstones or Story Smith) and find tips and activities to try at home at michellecassar.com