Aside from causing personal distress and inconvenience, water leaks also cause a large amount of water to be wasted. For this reason, we are committed to repairing leaks quickly.
We want to prevent & repair leaks quickly
Water is a precious resource. It's in our interests to reduce leakage and repair leaks quickly, so it helps the environment and keeps your bills down.
Water leaks can occur on the pipes we manage, as well as the pipes you are responsible for. When you let us know about a leak on one of our pipes, in most cases we will aim to have it repaired within 10 working days. If you're unsure whether the leak is on our pipework, or yours, find out here.
Why do pipes leak?
A variety of factors can cause pipes to leak, including frost, dry spells, logging and even the weight of traffic passing over pipework in the road. Bristol Water manages over 6,700 km of pipework - so it's inevitable a leak will occur from time to time.
The size of the leak can also vary. Some leaks can be very large, with the worst resulting in water gushing out of the ground, many, however, will be small, and sometimes difficult to locate.
We advise all customers make monthly water meter checks to help spot leaks. If you think you may have a water leak, Bristol Water may be able to provide a free leakage detection service, whereby if a leak is found, a repair can be arranged.
How to spot a leak
The following may be tell-tale signs of a water leak:
Sudden loss of water pressure or flow
Water gushing from the ground
Damp patches on the ground, even in dry weather
Your plumbing making a constant noise, even when no water is being used
If you use a water meter and you find your bill is much higher than usual
Your water meter registers a flow even when no appliances or taps are in use
Responsibility for a leak
We are responsible for fixing a leaks on our own pipework. Generally, leaks found inside of the boundary of your property and in private land are your responsibility.
If we find a leak on your property, we'll notify you so you're aware. You then have 14 calendar days to repair that leak. We can recommend an approved plumber who will be able to help you with the repair.
In some cases, where the leak is on a pipe that crosses the boundary of the property - but has not yet entered the house - we may be able to offer help through our LeakStop scheme.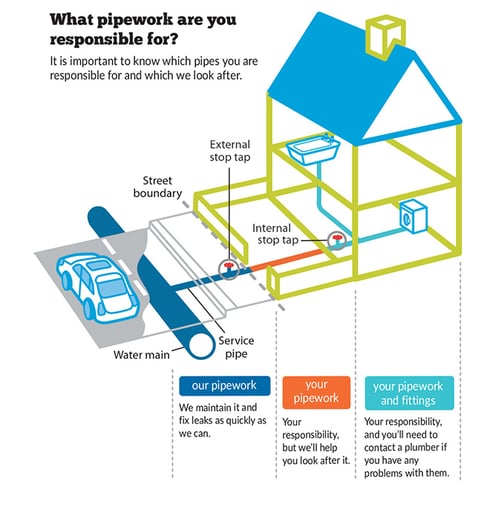 Leakstop Scheme
Even though a leak found here would usually be the responsibility of the homeowner, in certain conditions, we are able to offer one free repair and a further subsidised repair on the pipework to stop the leak. Any repairs we undertake as part of LeakStop are guaranteed for 12 months.
LeakStop doesn't apply for leaks found underneath a property. In these cases you will need to contact a plumber to repair the leak.
To be considered for LeakStop, you need to contact us within 5 working days of us notifying you of a leak at your property.
As LeakStop is only for domestic homeowners, if you have a commercial, agricultural or industrial premise you will not qualify for the scheme.
How LeakStop helps...
If you have a leak on a pipe that hasn't yet entered your property, LeakStop can help you by:
Providing one free repair*
Providing one subsidised repair*
Work is guaranteed for 12 months
* Terms and conditions apply